The GWLAB gemological laboratory is a prime establishment, serving the world diamond and gemstone industry. Its name has become synonymous with professionalism, technology, accuracy and integrity. The laboratory's suite of services includes issuing official grading reports for natural, colored and laboratory-grown diamonds, as well as gem identification and jewelry reports; offering consultations to support the gem trade; and conducting groundbreaking researches.

Inspecting a diamond's color at the GWLAB laboratory
The GWLAB team prides itself on its highly professional gemologists, specializing in the analysis and grading of color, clarity and cut in gems, all having graduated from world-renowned gemological institutes – GIA and Gem-A. The gemological tests performed by the team are carried out using the most advanced equipment available. The team is directed and supervised by Menahem Sevdermish, FGA D.Litt., a world-leading gemologist and gem expert.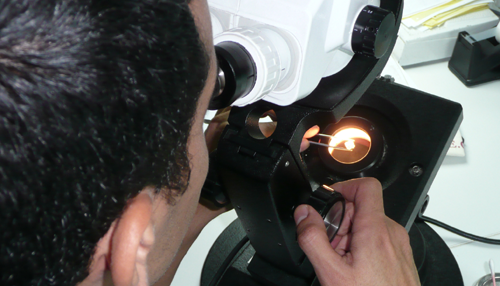 Inspecting a diamond at the GWLAB laboratory