Gem Identification & Grading Report
GWLAB offers Gem Identification reports for gem materials, mounted jewelry and ornaments. The identification tests, based on the chemical and physical properties of the mineral, are performed by GWLAB experienced gemologists. The process includes the use of traditional and highly advanced gemological instruments, supported by magnified observation.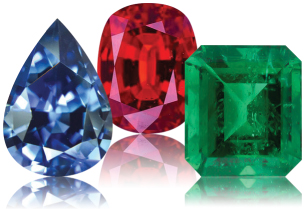 Sapphire, ruby and emerald gems

The identification results include the gem type (variety and species/series), its descriptive properties (transparency, shape and cutting style, measurements and carat weight), its color (as perceived by the eye and according to the Gemewizard system), its clarity grade, the enhancements which the gem was subject to, a learned opinion regarding its country of origin, digital image(s) of the gem, digital Gemewizard reference color(s) of the gem and its precise location within the spectrum, its commercial name (if applicable) and a 3D dimensional model of the gem.
GWLAB's Gem Identification and Grading Reports offers unique grading capabilities for multi-colored gems that are available only here. These include gems with color-change phenomena, bi-color gems and parti-color gems as well. In these cases, the color grade includes both the colors of the gem, as well as their precise locations in their respective spectrums. For parti-colored gems, the overall appearance of the gem's color and its main color components are depicted.
For materials identified as synthetics (laboratory grown) or man-made (such as glass), a GWLAB report is issued, distinctly stating the non-natural state of the gem. Thus our customers are always assured that all the necessary gem information has been disclosed. A full analytical report including the entire recorded data gathered from the identification process is available for an additional fee.
GWLAB Gem Identification & Grading Report (click to enlarge)

Outer cover

Report for a natural gem

Report for a bi-color/color-change gem

To learn more about ordering GWLAB Gem identification & Grading Reports, please contact us.

Already have a GWLAB report? To verify it, click here.